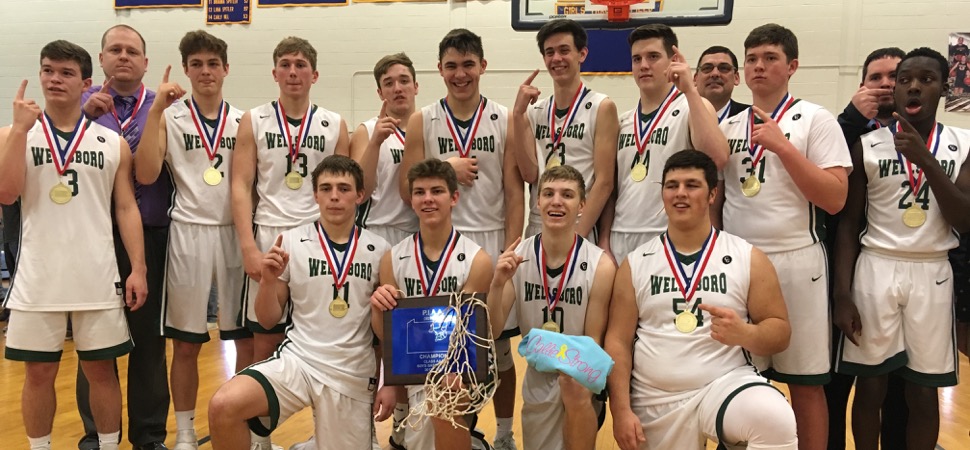 Wellsboro ends long draught with 53-47 win over Loyalsock to claim the District 4 Class AAA Championship
By: Brett R. Crossley | WellsboroAthletics.com | March 3, 2018 | Photo courtesy Brett R. Crossley
MONTOURSVILLE—The tension started to get thick as the final few seconds started to tick down to zeros.
Wellsboro fans, players, and coaches knew that each second ticked off the clock meant they were getting closer to history. The last time Wellsboro celebrated a District championship it was at the end of the 1951-52 season. A lot has changed since that title, but it won't matter as the Green Hornets will be celebrating throughout the night as they claimed the top spot of the District 4 Class AAA tournament with a 53-47 win over No. 2 seeded Loyalsock.
Wellsboro will open the PIAA Class AAA Basketball championship tournament with a game against the runner-up of District 11. Loyalsock will take on the runner-up in District 2. Both games will be played next Saturday at a time and place yet to be named.
As for Saturday's championship, Wellsboro only trailed a few times and fought throughout three ties to knock off Loyalsock.
"It feels great," Wellsboro coach Todd Outman said. "Anytime it takes 65 or 66 years to accomplish something. The kids were confident coming in. They did a fantastic job."
Wellsboro opened the game on a 6-0 run and rode that start to an 11-7 lead at the end of the first quarter. The Green Hornets were challenged as Loyalsock opened the second quarter with a quick four points to tie the game. The two teams went on to tie two more times and play through four lead changes over the stretch.
Gerald Ross was outstanding over the run, scoring six points, committing a steal and pulling down four rebounds. Ross missed on an attempt at a three-point play after getting fouled. Connor Watkins grabbed the board and quickly got the ball back to Ross, who scored for a four-point swing in favor of the Lancers.
"We just had to make sure that we knew where he was at all times," Outman said of Ross. "He's a great player. You just can't let him get off and that's what we talked about. We had to make sure we knew where he and Pastore were. We figured they were their two biggest outside threats."
Mitchell Klingerman finished the second quarter with four points and Watkins added a basket to help the Lancers outscore the Green Hornets 12-9 over the eight minute stretch. Despite the efforts, Wellsboro, behind Dalton Prough's nine first half points, led 20-19 at the break.
"We just kept playing our game and executed our game plan," Tuttle said. "Coach always says free throws and defense can dictate basketball games."
At the beginning the second half the game started to turn in favor of Wellsboro, which opened on a 9-1 run. Quinn Henry hit a three and Prough added a basket and two free throws as Brandyn Tuttle scored all three of his points from the line.
Loyalsock's chances took a major hit in the third quarter when Watkins was called for a technical. He fouled out and Wellsboro quickly took advantage.
"When they lose a couple really good players obviously we felt a little more comfortable," Outman said. "It would be the same way for them if we lose one of our players. You like your chances at the end."
Wellsboro went to the line 31 times in the game and canned 18 of those attempts.
"I know we missed some at the end, but we hunkered down made them at the end when it counted," Tuttle said.
Over the final eight minutes, Prough and Tuttle reached the line 20 times. Tuttle struggled a bit, missing seven attempts, but hitting the final two to ice the game. He finished with 11 points and Prough dropped 27 to go with a block and three rebounds.
"We kind of fumbled a little bit at the end missing free throws," Outman said. "We let them get to the rim and weren't stopping the players we needed to stop. The guys kept fighting and fighting hard and they pulled out the victory."
Loyalsock received 15 points from Ross and another 10 from Klingerman, but lack of depth and three players fouling out proved to be costly. The Lancers lost Watkins in the third and Brima and Pastore in the fourth.
"He's our team MVP for the year and to lose a quality guy who does everything for us was a brutal blow to the team," Loyalsock coach Ron "CI" Insinger said of Watkins. "We have to have him on the floor against a quality team like Wellsboro."
No. 1 Wellsboro 53, No. 2 Loyalsock 47
Loyalsock (47)
Brandon Bauman 0 0-0 0; Gerald Ross 6 1-3 15; Collin Graver 0 0-0 0; Anthony Pastore 3 2-3 9; Connor Watkins 3 0-1 6; Mitchell Klingerman 5 0-0n 10; Bam Brima 1 0-0 2; Aiden Gair 1 2-2 5. Totals 19 5-9 47.
Wellsboro (53)
Tanner Button 0 0-0 0; Dalton Prough 7 11-13 27; Quinn Henry 3 1-2 12; Nic Ingerick 1 0-1 1; Brandyn Tuttle 3 5-13 11; Joseph Grab 0 0-0 0; Collin Pietropola 0 1-2 1. Totals 14 18-31 53
LOY 7 12 7 21–47
WELL 11 9 10 23–53
3–Point Goals: Loyalsock 4 (Ross 2, Pastore, Gair). Wellsboro 5 (Prough 2, Henry 3).
Records: Loyalsock 20-7. Wellsboro 26-1.