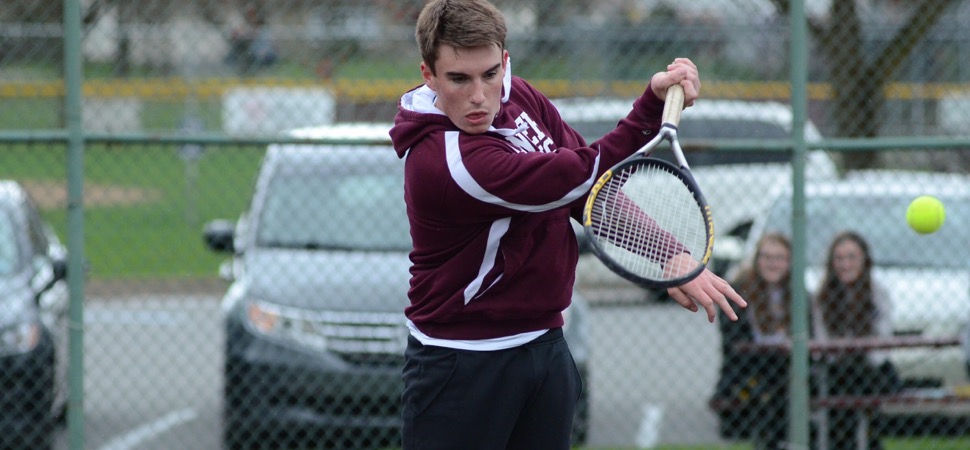 Bomboy continues to improve as Lancers push record to 9-3 with win over Montoursville
By: Brett R. Crossley | WellsboroAthletics.com | April 16, 2019 | Photo courtesy Brett R. Crossley
By BRETT R. CROSSLEY
For the Loyalsock Lancers
WILLIAMSPORT—Jake Bomboy decided to go out for tennis this year over baseball.
The transition is not easy. Tennis involves a completely different mindset. Bomboy is starting to adapt and learn as he continues to be a strong player for the Lancers. Bomboy used his serve to pick up points and overpowered Montoursville's Ben Watts when he needed to finish off a 6-4 7-5 win. The victory was crucial as both doubles teams won to give Loyalsock a slim 3-2 win over the Warriors.
"We're already in districts, but we want to keep doing well," Bomboy said. "These matches are very important. We want to just keep it up and win matches."
Bomboy will be a big factor as Loyalsock gets ready to take on teams like Lewisburg and Central Columbia. Both teams are ahead of the Lancers in the team standings. Loyalsock has dropped both contests against Lewisburg and will have one final chance to knock off Central Columbia during the final match of the regular season.
Without getting too far ahead, Monday's match was meaningful as the Lancers pushed their current win streak to two. Bomboy's win was important as he overcame a late push in the final set.
"They played the first time and it didn't go Jake's way," Loyalsock coach Rick Zimmerman said. "He seems to be getting better. He had a nice win over Hughesville's No. 2 and that was his only loss of the season. He's getting better."
Ben Wescott and Ty Whitmoyer won the No. 1 doubles match 6-1 6-1 over Levi Miller and Max Krepps. Alek Hamilton and Trace Haller had to overcome a 3-6 first set loss, but eventually picked up a win with a 6-2 6-2 finish.
Loyalsock 3, Montoursville 2
Singles—1. Andrew Stapp (M) defeated Connor Rude (L), 4-6 6-2 6-2; 2. Jake Bomboy (L) defeated Ben Watts (M), 6-4 7-5; 3. Eli Ward (M) defeated Quinn Dietrick (L), 6-4 6-2.
Doubles—Ben Wescott and Ty Whitmoyer (L) defeated Levi Miller and Max Krepps (M), 6-1 6-1; 2. Alek Hamilton and Trace Haller (L) defeated Greyson Simms and Aidan Morrow (M), 3-6 6-2 6-2.
Records: Montoursville 5-5. Loyalsock 9-3.
Next: Montoursville at Lewisburg, Wednesday, 4 p.m. Loyalsock at Bloomsburg, Wednesday, 4 p.m.