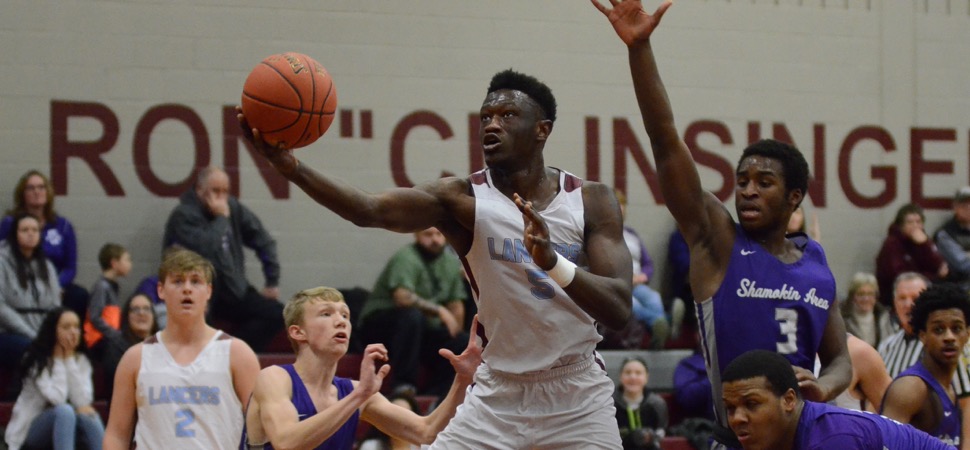 Brima's career-high 14 points lead Loyalsock to 77-51 win over Shamokin.
By: Brett R. Crossley | WellsboroAthletics.com | January 22, 2019 | Photo courtesy Brett R. Crossley
WILLIAMSPORT — Bam Brima had one of the best defense games of his career as Loyalsock knocked off Hughesville Saturday.
He followed that game up with a career-high 14 points against Shamokin as Loyalsock won 77-51 to make it nine consecutive wins since dropping its only game of the season.
Loyalsock's offensive attack was balanced throughout the game as all five starters reached double figures. Bam Brima, who played one of his best defensive games of the season in Saturday's win over Hughesville, played outstanding on both ends of the court.
He led all Loyalsock scorers with six in the opening quarter on his way to finishing with a career-high 14 points. He also added seven rebounds and a steal for the Lancers.
"He's so proud of himself," Loyalsock coach Ron "CI" Insinger said. "He could do that every night if he wanted to. He's just got to be more assertive and attack the basket more."
Brima continued to attack the basket, but his outside shooters started to heat up in the second as the Lancers received two long threes from Aiden Gair. Brima scored four points, Gair led the way with six points, and Anthony Pastore scored five of his team-leading 17 points in the quarter.
"Loyalsock is a really good team," Zimmerman said. "It's hard enough to beat them when you're playing well, but the lack of competitiveness on our part there's no chance."
Loyalsock opened the second quarter on an 8-2 run to go up 25-16 and force a timeout from Shamokion. The Indians struggled against the press, but did receive a trey from Mason Filarski, who also scored seven in the opening quarter.
"Loyalsock is really good, but our guys never got off the bus today," Zimmerman said. "Their pressure was good and they are a very, very good team, but I'm very disgusted with the way our guys competed today."
Shamokin committed 12 turnovers against Loyalsock's press and struggled to get the ball past half court throughout stretches of the game.
"We've been doing it since we were young. We always press teams," Pastore said. "We attack the rim once we get a steal or get a shot as quickly as possible. We pick up the tempo and we're confident we'll score more than they do."
Loyalsock attacked Shamokin from just about everywhere on the floor. Brima and Watkins controlled the middle of the paint, which allowed players like Gair and Pastore to stretch the defense out.
Pastore scored 10 points in the third quarter as the Lancers posted their second 22-point effort of the game. Brima added two steals and a block in the quarter.
"It makes the perimeter players game so much easier," Insinger said of Brima and Watkins rebounding efforts throughout the game. "They know if they are off there's a good chance one of them are going to pull it in."
Watkins was outstanding in the opening quarter as he pulled down rebounds and scored five points. With 1:37 left he was fouled and muscled a shot up for a three-point play.