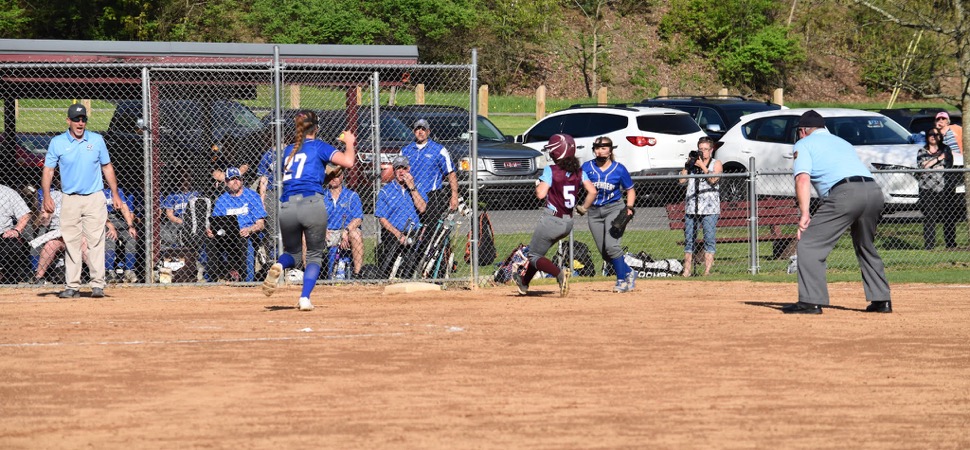 Lancers Fall to Defenders in First Home Loss of the Season
By: Caleb Albaugh | WellsboroAthletics.com | May 6, 2019 | Photo courtesy Caleb Albaugh
Loyalsock fought for three hours in the spring sun.
The Lancers made crucial plays in the air, on the ground, and while batting. Despite their efforts, it was not enough to overcome Warrior Run's stellar defense as they fell to them 7-6.
Everyone was excited and hopeful for this game. Almost one month in ago to the day, Warrior Run had lost at home 3-2 when Loyalsock kept its guard up on offense and defense.
Ten straight innings were played extremely well from both sides. The first three innings were scoreless, with two hits coming from Warrior Run and zero hits from Loyalsock. Two runners were left on base for Warrior Run and three for Loyalsock, both coming from the first three innings.
When the bottom of the fourth inning came, Mari Houseknecht came up with Loyalsock's first hit. She hit a double over second base and Loyalsock requested a special pinch-runner to try to get the first run of the ball game. Kamryn Pryor filled in for Houseknecht on second base, managing to get home and getting Loyalsock's first run of the game. She managed to get home after Cassie Gee hit a double between first and second base, giving Cassie an RBI for the game.
Warrior Run had hit a two-run home run over the centerfield fence off of a tree. That same inning, Summer McNulty also hit a two-run home run, also hitting off of the centerfield fence, bringing in Juliana Cruz as well.
Coach Mark Godfrey from Loyalsock was very impressed from both teams and offered his thoughts about the game.
"I thought it was a great game. We came up short score wise, but they never quit and just kept going at it until the end. These are the exact games we need to prepare us for the postseason. Beating teams by more than 15 runs is not doing us good game wise. Going up against Madi Waltman and scoring 6 runs is phenomenal, considering that she is one of the best pitchers in our area. We needed a game like this to show teams how good we really are in these types of situations."
Loyalsock plays its final home game against the Selinsgrove Seals at 4:30 pm on May 6th, 2019 at James Short Park. It is also Loyalsock's senior night.