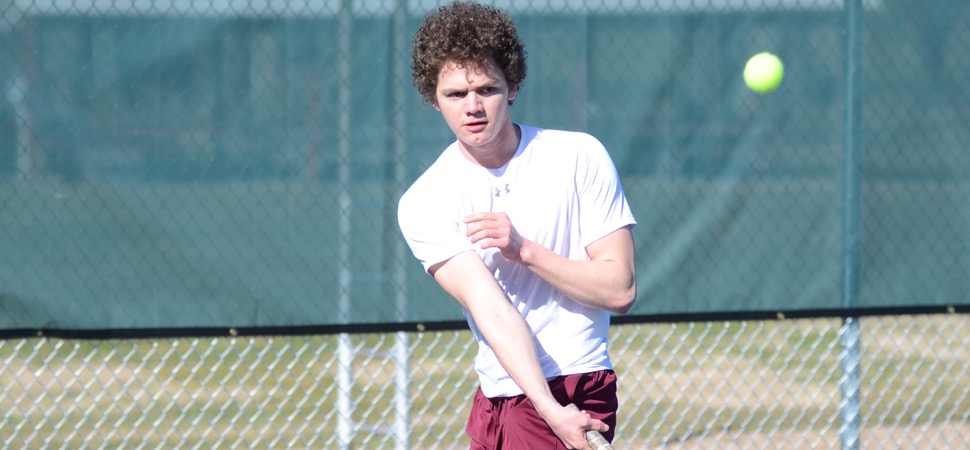 Loyalsock opens key three-match stretch with 3-2 win over South Williamsport
By: Brett R. Crossley | WellsboroAthletics.com | April 1, 2019 | Photo courtesy Brett R. Crossley
SOUTH WILLIAMSPORT - Quinn Deitrick picked up a win at No. 3 singles and both doubles teams won as Loyalsock knocked off South Williamsport 3-2 in tennis.
The win kicks off an important stretch of matches for the Lancers, who travel to Mifflinburg Tuesday before taking on Heartland Conference II leaders Central Columbia Wednesday. The win Monday moves the Lancers to 4-1 on the season.
"It went the way we expected," Loyalsock Rick Zimmerman said. "We thought the first two singles would be close. We had an advantage in the other three positions and the kids played that way."
At times throughout the season Deitrick has started matches slow. It has forced him to play catchup at times. That wasn't the case Monday as he won both sets 6-2 6-2.
"I started getting my serves in and just started playing calmer," Deitrick said. "The first few games I lost I was just hitting it long a lot. I just started playing it safer and it just worked out for me."
Alek Hamilton and Trace Haller did start slow in their No. 2 doubles match. It forced the duo to play nearly mistake free tennis the remainder of the opening set. They did, which forced a tie-breaker as the two teams tied at the end of the opening set.
Hamilton and Haller won the tie-breaker 7-0 and closed out the match with a 6–0 win in the second set.
"Doubles have been strong for us all season," Zimmerman said. "No. 1 doubles have been dominant for us all year. The No. 2 doubles started slow today, but once they got going, they just rolled along."
Loyalsock 3, South Williamsport 2
Singles - 1. Franklin Summerson (South Williamsport) defeated Connor Rude (Loyalsock), 6-3 6-4. 2. Spencer Karasek (South Williamsport) defeated Jake Bomboy (Loyalsock), 6-2 6-2. 3. Quinn Deitrick (Loyalsock) defeated Sam Livorno (South Williamsport), 6-2 6-2.
Doubles - 1. Ben Wescott and Ty Whitmoyer (Loyalsock) defeated Trevor Effen and Sean Dunn (South Williamsport), 6-0 6-0. Alek Hamilton and Trace Haller (Loyalsock) defeated Logan Ogden and Trent Morrison (South Williamsport), 7-6 (7-0) 6-0.
Records: Loyalsock 4-1. South Williamsport 2-4.
Next: Loyalsock at Mifflinburg, Tuesday, 4 p.m. South Williamsport at Mifflinburg, Wednesday, 4 p.m.