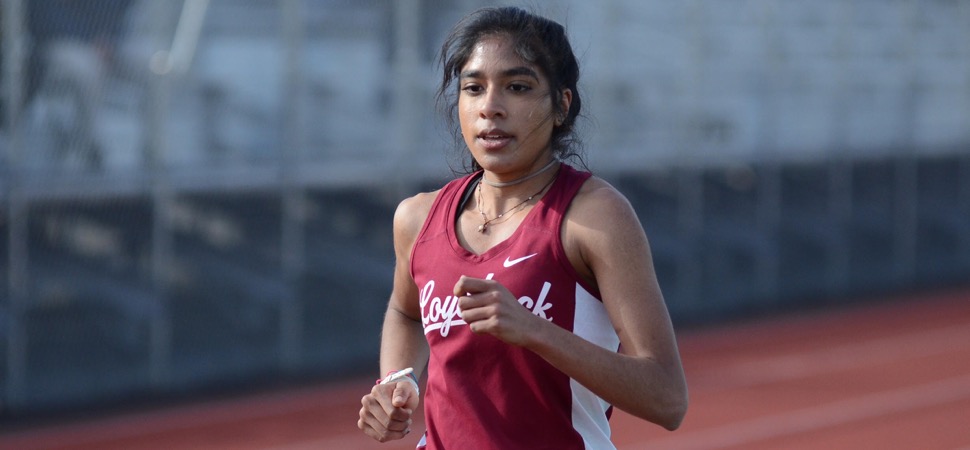 Sagar excels in final season with Loyalsock before heading to Harvard
By: Brett R. Crossley | WellsboroAthletics.com | April 15, 2019 | Photo courtesy Brett R. Crossley
By BRETT R. CROSSLEY
For the Loyalsock Lancers
WILLIAMSPORT—During the offseason Loyalsock's Isabell Sagar decided she would take on her training and preparation by herself as she prepared for her senior season with the Lancers.
She worked tirelessly and dedicated herself to running. The work has paid off early in the season as she has posted sub 11-minute 3,200 and miles in the low five-minutes. She has been outstanding and her discipline and training has been on full display throughout the season.
"I worked harder and just did more miles and pushed myself," Sagar said. "I'm not holding anything back this year. It's my senior year and I want to get everything I can out of it."
Sagar took control of her training. She believed in herself and put together an offseason program that has made her a clear favorite to take gold in both events at Districts and beyond.
"I used to do more camps and I think they are fantastic for underclassman, but this year I didn't really do any camps," Sagar said. "I was just on my own. Sometimes it can be nice, but other times it's really nice to have the team around you."
It might have been a little lonely on the roads and trails Sagar elected to do her training on, but that didn't hold her back at all. She would later join the team for its initial practice and immediately felt right back at home.
In a school filled with All-state athletes, multiple letter-winners, and a top-notch reputation throughout the state, Sagar is making a name for herself and her sport. Sagar's runs are starting to draw bigger and bigger crowds.
Even in a sport that isn't known for being the most popular, Sagar has carved a name out for herself. She draws crowds of supporters at every meet she competes in. Even ones from the rival school Loyalsock is competing against. She has stood out in a school filled with standout athletes.
"It's something that I'm not used to," Sagar said. "You deal with it as it comes. It's definitely not a negative thing. It's cool to talk to new people. I like when underappreciated sports get attention."
She has drawn the crowds and put herself in the best possible position to challenge at Districts and States.
"I feel like I've started out really strong," Sagar said. "It's been a lot of fun to run at the meets. It's been a good experience. I was really excited to start track and to start working with the team. It feels really good."
She will attend Harvard in the fall. She has also already qualified for Districts in both of her events. She will have plenty of time to fine-tune the little things in the lead up to her final postseason as a Lancer.
"It's definitely a lot of pressure that's off," Sagar said. "I feel like a weight off my shoulders. It feels really good."
College decisions are out of the way and the pressure of qualifying for the postseason is over. The rest of the season looks bright for a pressure-free Sagar as she runs through her last challenge before graduation and the postseason.