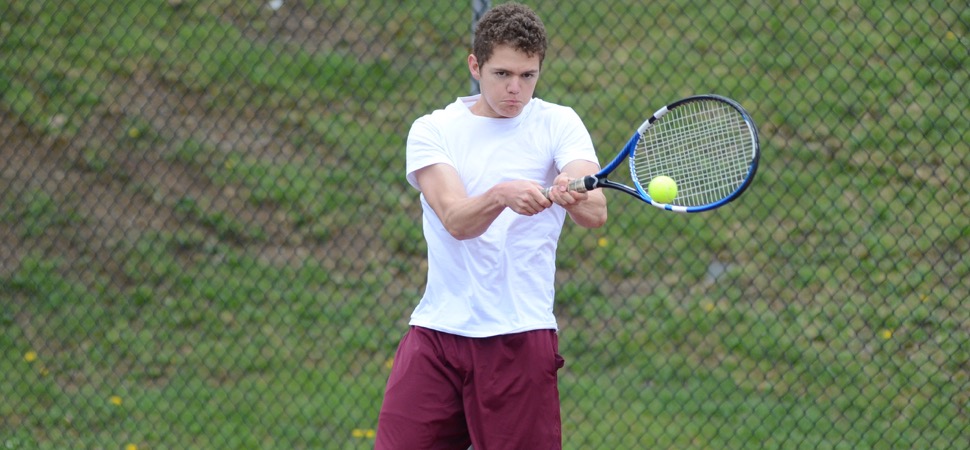 Zimmerman coaches up team to reach unexpected heights this year in tennis
By: Brett R. Crossley | WellsboroAthletics.com | May 8, 2019 | Photo courtesy Brett R. Crossley
By BRETT R. CROSSLEY
For the Loyalsock Lancers
WILLIAMSPORT—Two years ago Conner Rude's friends convinced him to come out for tennis in the spring.
Last Saturday, Rude was representing Loyalsock at the District 4 Singles Championships after earning a trip there thanks to a productive second season playing tennis.
"All of us just picked up tennis on a wimp their sophomore or junior year," Rude said. "Being able to come out and actually compete with teams is a good feeling."
Rude lost his opening match against Wellsboro's William Poirier 6-1 6-2, but gained a lot from competing at the District 4 tournament just two years into his tennis journey.
Loyalsock's program stayed right with the top teams in the District. They remained right around third throughout the season and challenged some of the area's top teams in Lewisburg, Milton, and Central Columbia.
"We do get a lot of athletes from other programs," Rude said. "We get kids who weren't happy with track their freshman year. Kids that weren't happy with baseball their sophomore year."
Tennis has given plenty of athletes another chance at Loyalsock. Rude joined the team two years ago. The Lancers No. 2 player Jake Bomboy was a standout with the baseball program before moving over the tennis.
Bomboy and Rude, who made up Loyalsock's top two singles players, were a big reason the program was able to reach the District 4 team tournament as well as sending Rude to the singles tournament.
"Just general athleticism and bringing it in helps," Rude said. "Tennis you have to practice a lot, but as long as your semi athletic and coordinated you'll have an easy time picking it up."
Loyalsock coach Rick Zimmerman has put together teams that featured life-long tennis players and the results were there for him. He's also taken teams made up of athletes simply looking for a home and the results were there for him and the team.
It takes something special for a coach to be flexible with players. It also takes a lot to build a team around players learning the sport for the first time.
"When you get good athletes from other sports, they usually can hit forehands and backhands already, so you just make sure they are good with that then fine tune things here and there like footwork and when to go to net and when to stay back," Zimmerman said. "Make sure they are comfortable with their service motion and they are pretty much set."
Zimmerman also has to deal with mixed practice where he balances newcomers and experienced players.
"None of our starters this year played tennis as freshman, most joined as Sophomores and Conner and Jake joined when they were juniors," Zimmerman said. "Even though we took some lumps their first couple years you could see they were improving. They had just never played tennis before. We knew by the time they are all Seniors we had a chance to be good then when Jake joined the team this year, he was kind of the missing piece and that allowed us to keep our Doubles teams together and just plug Jake into singles."
The results were there for Loyalsock as it reached the team quarterfinals, was represented by Rude in the singles tournament, and will have a doubles team compete.