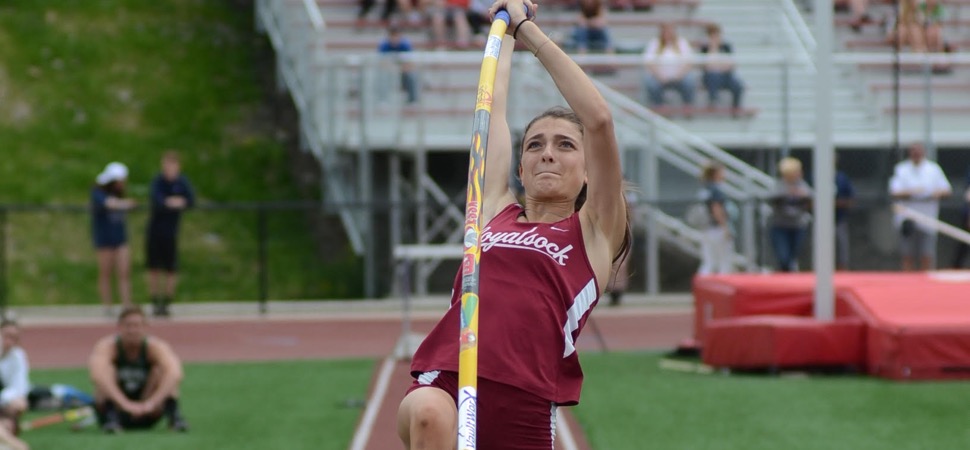 Zurich wins four golds on banner day for Loyalsock track and field
By: Brett R. Crossley | WellsboroAthletics.com | May 23, 2019 | Photo courtesy Brett R. Crossley
By BRETT R. CROSSLEY
For the Loyalsock Lancers
WILLIAMSPORT—Hailey Zurich wasn't feeling right after she got done running the 100 at last week's District 4 Track and Field Championships.
She wasn't feeling right and it was the beginning of a long day at the track as Zurich had multiple events and relays to compete in for the Lancers.
"My entire body after the 100," Zurich said when asked what was wrong after the 100. "My legs just felt like weights. Going through warmups and not being able to pick up your legs and have the right form is frustrating."
Despite the setback, Zurich still managed to compete. She won the 100, topped out in the pole vault, ran the 4x100 relay, and competed the long jump.
She posted a 17-06.25 in the long, topped 12-6.25 in the pole vault (a PR), helped the 4x100 post a 49.55, and cleared the field in the 100 with a 12.67.
"I couldn't be happier with the results," Zurich said. "I didn't really expect to have such a good day. Obviously getting four golds is something I'm going to be very proud of moving forward."
For Zurich, the unreal feeling of winning four gold medals at one meet might not have even happened if she wasn't able to fight through adversity after the 100.
She was struggling. Her legs had just given everything they had to win the 100, but Zurich still had to pole vault. She cleared 11-6 and was given some much needed time to gather herself.
"Pole vault especially," Zurich said when asked if there was one event that stood out for her. "That's my first event and coming after the 100 I wasn't feeling well."
Zurich might not have been feeling well for the start of the pole vault, especially after winning the 100, but it all changed when she topped 11-6.
"After clearing 11-6 I was finally able to settle down and have the break that I needed," Zurich said. "When I came up to that 12-6 bar, I had a feeling I was going to clear it."
She did clear that mark.
After the 11-6 jump, Zurich was called away from the vault to receive her medal for the 100. It was after receiving it that she took her time heading back the vault. She took her time and it paid off as she topped 12-0 on her first try. The rest will be part of Lancer history as she ended the day with multiple top finishes.
It was a day she will remember for the four gold medals and the fact she topped out with a personal record in her favorite event.
"Having a PR to top it all off in my favorite event is the best," Zurich said. "You kind of just have to go through the motions until you're able to catch your breath."
Zurich had that moment and the results were there for her and her teammates.
She will now take her four golds and teammates with her to this week's PIAA State Track and Field Championships in Shippensburg to compete for more medals.
"I'm happier than I ever thought I would be," Zurich said. "You come in with high expectation, but you never want to get them too high."